Lynette Birch has a simple philosophy. It hangs around her neck, a thin charm wrought in gold, a single letter connected to a twisted strand of rope. Y knot. This message pours from the heart and radiates from the smile of a lady who has every reason to see the world as harsh, dangerous and unfair. But to Lynette, getting lost in wondering "why" is no way to live when there are so many opportunities to say, "why not."
On September 15, 1995, hurricane Marilyn slammed into the U.S. Virgin Islands, the most powerful storm since Hugo six years earlier. Lynette was vacationing on St. John at the time. The Category 3 winds devastated the islands, killing seven. Marilyn exacted her pound of flesh from Lynette as well. The lady kept her life, but lost her arm to the storm.
Today, when she shakes the hand of a new friend, Lynette knows they are likely stealing a glance at the one that is not there. She understands, but hopes that, once people see what's missing, they can look past it. "Yes, I lost my arm, but that's not what my story is about." 
Lynette's story is one of exploration and adventure, of hitting the road with her pair of furry, diminutive traveling companions, Knickers and Levi Strauss. This remarkable survivor has combined her love of RV living with a new passion, restoration. But Lynette does not take previously loved trailers and make them better, she finds trailers that have been weatherbeaten, broken and neglected, and then brings them back to vibrant life.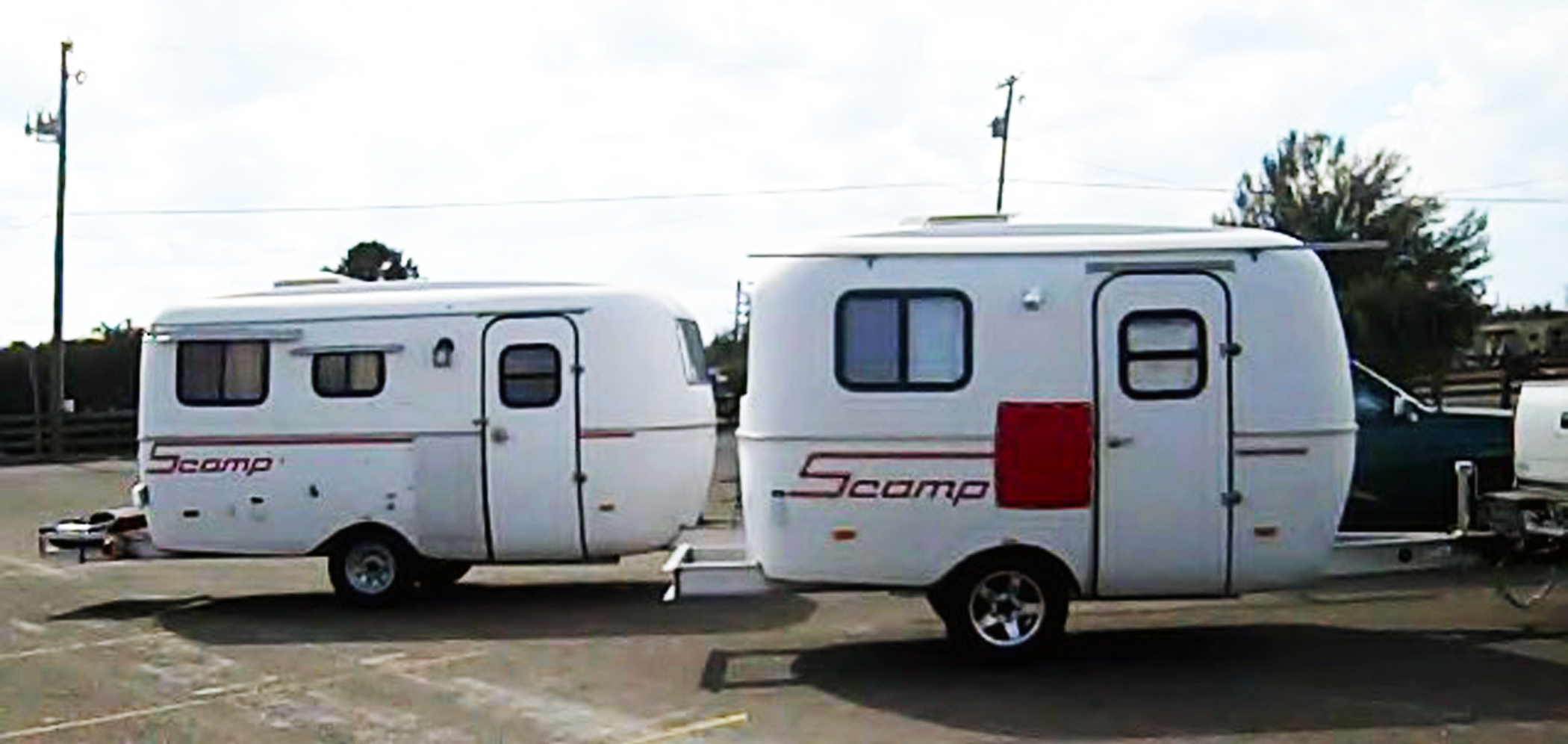 A PASSION FOR RESTORATION
Lynette's passion for restoring Scamp travel trailers began in 2010 during a trip through the Florida Keys. While cruising down Summerland Key something in a yard just off the highway caught her eye. Curious, she turned around and went back to have a peek. The 1986 Scamp had once been used by the U.S. Navy as temporary housing. But, after rotting in a junkyard for over a decade, it was far from shipshape. Ravaged by heat and wind and rain, by salt and years of neglect. The door was hanging by a broken hinge and the roof vent was missing. The frame was rusted. The floor had fallen in. It was perfect.
Lynette approached the owner, Jeff, and asked if the Scamp was for sale. Nope. Not for sale. Disappointed, Lynette returned home. After a few days she called Jeff back to see if he might change his mind. After all, until Lynette came along, the only creatures that seemed to care about that camper were the family of raccoons that had been calling it home.
As it turned out, Jeff had been having second thoughts. So Lynette called a friend and made the nine-hour drive to Summerland. "I was so excited. I had fallen in love with that camper. I knew it would be a lot of work, but I was looking forward to the challenge. Why not, right?"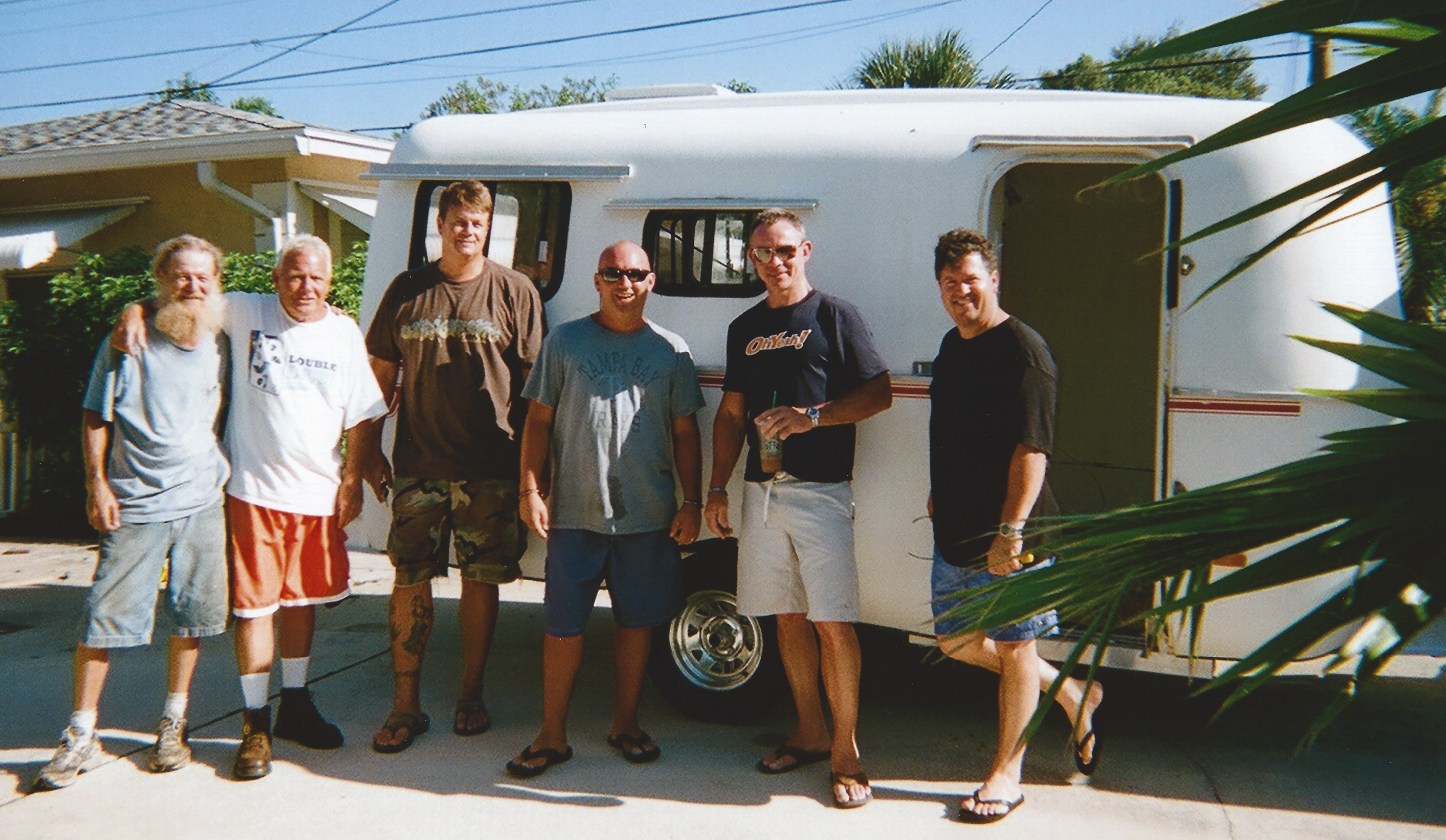 A LABOR OF LOVE
Once back home Lynette got to work cleaning out the Scamp. "The carpet was dry rotted and the couch cushions crumbled at a touch, so pretty much the entire interior had to go." And a closer look at the frame revealed a bigger problem. "The frame wasn't just rusted. It was completely shot. I had to figure out a way to get the shell off the frame." Lynette called the manufacturer, asking for advice. The response was not enthusiastic. "They were not much help, just told me to call back and let them know how it went." Lynette grabbed her Sawzall and got to work. "It was difficult, but I got it done."
Lynette called a few of her friends who agreed to come over and help her lift the shell off the chassis. Then she hired a boat trailer manufacturer to fabricate a new aluminum chassis. While they worked on that, she set about restoring the shell and the interior. "I did extensive work to this camper, beyond the repair. I have very specific needs, so the camper needed to be designed around my operating abilities."
"Many sinks are too deep on the counters for me, so I found a chafing dish and drilled a drain hole. It fit perfectly and works great." Then, other parts and pieces came together. The counter top came from Habitat for Humanity at a cost of $7. Lynette did not like the bi-fold screen doors Scamp offered, so she got one from Winnebago and cut it to fit. She upgraded the fridge from a single door to a larger 2-door model.
Other items focused more on weight and durability than on convenience. "I trimmed the cabinets in aluminum and cut the doors out of a sheet of polycarbonate hurricane board. Instead of using marine plywood for the floor, Lynette opted for a special, ¾-inch thick plastic. "That stuff is hard as nails and weighs about the same as plywood. Best of all it's guaranteed never to break, warp or split. I used a skill saw to trim it to size, a couple tubes of caulk and a pound of one-inch self tapping screws to fasten the floor to the frame. Now this is a one of a kind camper, nothing else like it in the country."
In the end, the 16-foot Scamp took Lynette about nine months – 1,800 hours – of steady work to finish. "Sure, it took me longer than it may have taken someone else. But I believe in myself, and I'm not a quitter." She christened the resurrected camper, "Cream Puff," because she designed it particularly to her wants and needs. Less than a year after she found it, rusting in a junkyard and home to forest critters, Lynette took Cream Puff camping.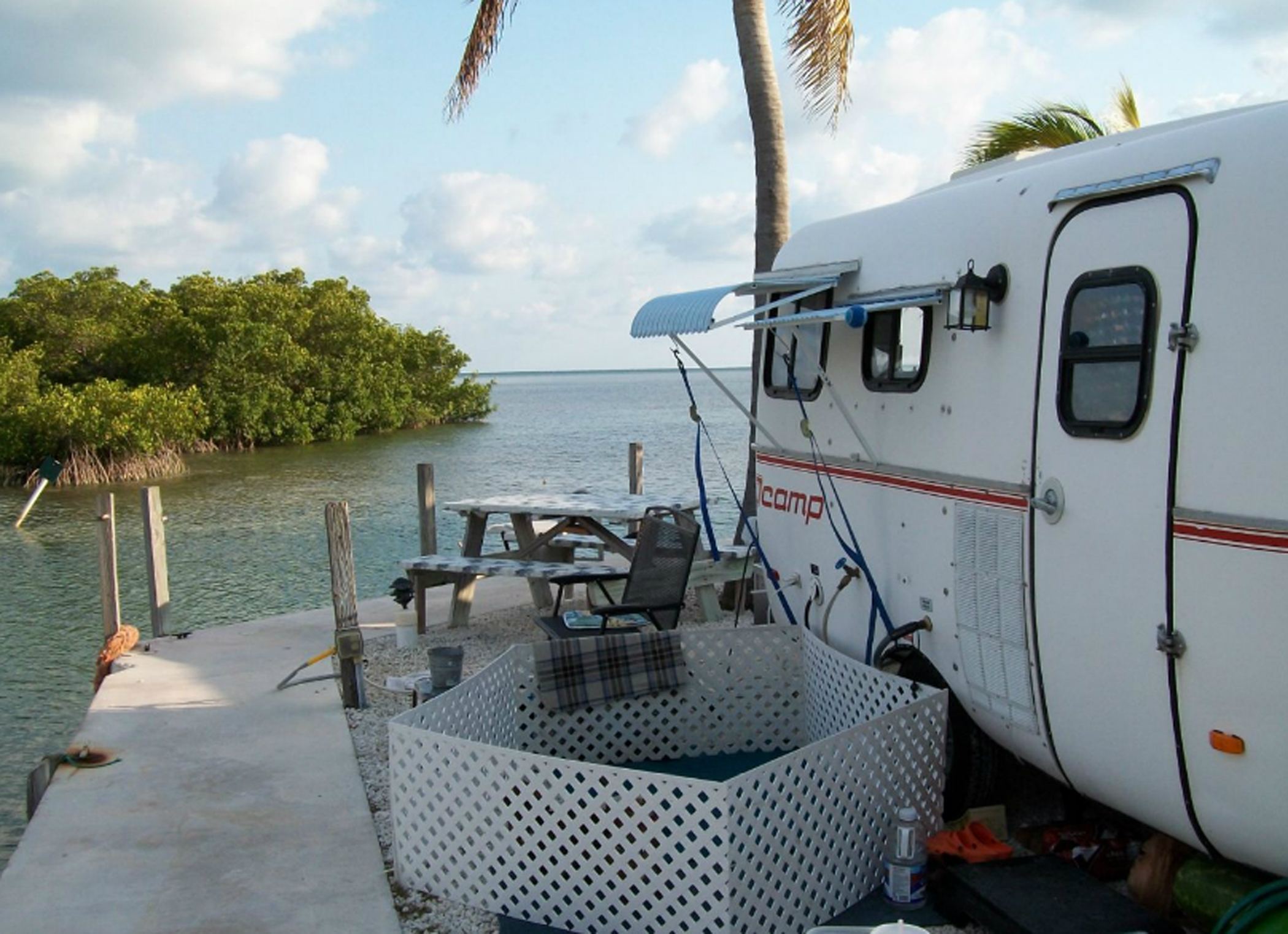 ENVISIONING POTENTIAL
The following October Lynette was back in the Keys, camping in Cream Puff, when another abandoned Scamp caught her eye. At only 13 feet, this trailer was a bit smaller and, like Cream Puff, in sad shape. The roof vent was gone and the frame was falling apart. The tires were flat and the taillights were smashed.  "I peeked inside and found a mess, debris everywhere and massive termite damage. But, like my Cream Puff, this Scamp was ready for a re-birth."
Lynette got to work. Again, she replaced the ruined frame with aluminum and added some diamond plate accenting inside and out. The new Plexiglas roof vent allows her to lie in bed and watch the night sky. "On full moon nights it's just beautiful." After those additions and a lot of elbow grease, the trailer was better than new. Lynette named the little Scamp, "Grace," because, she says, it was by the grace of God the trailer did not end up in a junkyard or a landfill. Only four months after the day Lynette found her, Grace was causing a stir at the annual Scamp Camp rally at Highlands Hammock State Park. "From the diamond plate flooring and cabinet doors to the aluminum chassis, Grace sure did turn some heads!"
And it all began because Lynette turned her own head. While countless passerby had barely noticed the roadside eyesore that became Cream Puff, Lynette saw potential. Her past had taught her that broken things can be restored and learn to live again. It was not easy, but it was possible.
Today, when people see her at rallies and hear the stories of Cream Puff and Grace, they are amazed. "They always ask me how I could do it." Lynette's eyes twinkle. You already know here answer.